Travel
Challenge Lisboa is a lot more than just a race, it is also a fantastic opportunity to get to know one of the oldest and most trendy countries in Europe. Whether you prefer the sea and sun, monuments and history, family entertainment, shopping and great food, or a vibrant city life, you and your family are sure to have a great time!
Lisbon International Airport is just 3 kms from the Race Venue, making Challenge Lisboa one of the easiest races to get to.
To get to the Race Venue from the Airport, the best options are to either catch a taxi or ride the subway from Aeroporto station to Oriente station, which will leave you right next to the Race Venue and all the hotels in the area.
Lisbon is one of the oldest capitals in Europe, and also one of the most beautiful. To find out more about what to see and do in Lisbon, please click here.
TAP Official Carrier Challenge Lisboa 2019
TAP airlines is the official Challenge Lisboa airline carrier, and is offering a special discount to Challenge Lisboa's athletes and attendants.
The terms and conditions of this discount are as follows:
Code IT19TPCG54 has been attributed to Challenge Lisboa 2019, taking place in Lisbon on the 18th of May 2019;
Participants must use this code when they make their reservation on TAP's  website, in order to benefit from the discount;
TAP is attributing a 10% discount in Economy class and 15% in Executive class;
This discount is applicable to round-trip flights, departing from anywhere TAP flies to/from, with Lisbon as the final destination;
This discount is only valid on routes and flights operated by TAP, and is subject to space availability when the reservation is made (code-share flights and flights operated by other airlines are not included);
This discount cannot be accumulated with the following fares: resident / student / child / infant / senior;
This discount is attributed to the applicable and available tariff on TAP's website, for the dates and flights selected, and do not include any extra fees, which must be paid in full when the tickets are emitted;
The aforementioned payments must be paid by credit card or any other available option on TAP's website, and the ticket issued will be an electronic ticket;
Reservations can be made by participants at any point, on flights ranging from ten days before and ten days after the event. The trip selected must include the 18th of May, the date of Challenge Lisboa;
Reservations made by travel agencies or at TAP's counters cannot benefit from this discount;
This discount is also applicable to those accompanying those participating in Challenge Lisboa;
Accommodation
Tivoli Oriente is the Main Hotel and the Organization's Official Hotel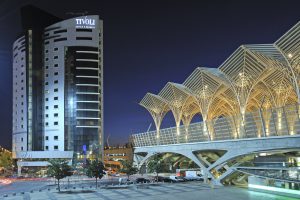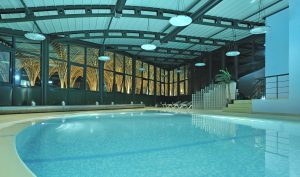 The hotel is located just 250 meters from the event's main areas and the Airport is just 3 kms away. You have the option to use the subway on your way to and from the venue. The subway station is inside the airport and just meters from Tivoli Oriente Hotel, making it one of the easiest events to access from the airport in the entire world!!
Check out the exclusive price range for Challenge Lisboa participants, and make your reservation using code challengelx2019. Please be aware that the sooner you make your reservation, the more discounts you can get.
As as incentive for you to bring the whole family, no extra charge will be added if you ask for an extra bed (for a child under 15).
Bring the whole family, register for the Family Relay, and take advantage of the special rates offered by Tivoli Oriente:
| | |
| --- | --- |
| Room type | Single | Double |
| Base Value | 160,00€ | 170,00€ |
| Until January 31st | -15% |
| Until February 28th | -10% |
| Until March 31st | -5% |
Important information:
– The mentioned prices are per room per night, including breakfast buffet at the restaurant;
– Prices are in Euro and include VAT. Additional charges, like Municipal tourist fees, or others, are not included;
– Extra Bed: 60,00€ per person (free of charge for children under 15);
– Valid for stays between the 15th and the 21st of May, on reservations made until the 19th of May;
And don't forget to use promo code challengelx2019
Would you like other accommodation options?
Check out the table below for a list of our other partner hotels and their respective discounts. Regardless of which one you choose, always use code challengelx2019 when you register.
| | | | | | |
| --- | --- | --- | --- | --- | --- |
| Hotel | Room Type | Rate | until January 31st | between Feb 1st and Feb 28th | between March 1st and March 31st |
| Tivoli Avenida | All rooms | Website rate | -10% | -10% | -10% |
| Avani Avenida | All rooms | Website rate | -10% | -10% | -10% |
| Myriad | Deluxe Twin or Double | 210,00€ | -15% | -10% | -5% |
| Myriad | Premium | 260,00€ | -15% | -10% | -5% |
| Myriad | Suite | 390,00€ | -15% | -10% | -5% |